Coyote Brown Camouflage Survival Paracord Watch Band with Watch Elastic Holder
It is normal for the watch band to be slightly narrower under the watch. The cord is weaved over the elastic for the entire watch band, except at the top where the elastic is exposed for the watch to be installed.
This band comes with a standard 42 mm exposed elastic, that's the space where your watch will sit. So, expect the elastic to be visible for watches smaller than 42 mm.
This band will comfortably fit the size you select!
One piece survival watch band
Amount of usable cord is approximately 9 feet to 14 feet depending on the wrist size
Strong cord but comfortable to wear 
Bracelet thickness: approx. 10 mm (.39")
Bracelet width: approx. 25 mm (.98")"
Tensile strength: 550 Lb.
Number of strands: 7
4 mm paracord
Fits any watch with spring bars or strap screws with lug width sizes from 18 mm to 25 mm
Best for watch cases measuring 35 mm to 45 mm
Not suitable for climbing
Band made in USA
Plastic
Curved
Quick release
2.5" long
Fire starter
Scraper (cutter)
Whistle
Compass (compass should not be used as a professional navigation instrument)
Thermometer (Celsius)
8 tools in 1 attachment (stored inside the buckle for ewasy access)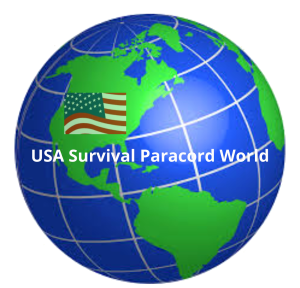 USA Survival Paracord World
Resizing information: Please measure your wrist prior to your purchase! We will be happy to resize your band if you purchase the wrong size!