SELECT YOUR WATCH AND BAND COLOR
These custom made adjustable survival watch bands are compatible with all these Casio watches within their series:. 
These bands will not fit Casio G-Shock Mudmaster GWG-2000. This watch requires band adapters, we make bands for this watch or any other Casio with adapters, please contact us!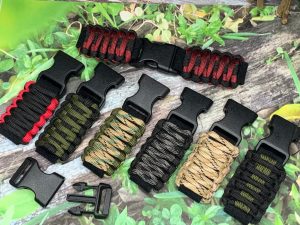 Easy to install with regular spring bars or strap screws
Amount of usable cord: Approx. 5  to 9 feet depending on the wrist size
Tensile strength: 550 Lb.
Number of strands: 7
4 mm paracord
Not suitable for climbing
Made in USA
Plastic
Curved
Quick release
1.75" long
Comfortable and lightweight
MULTICOLOR - CAMO - TWO TONE